Saturday, October 27, 2007
New interview about Takes, changing the line-up of the band and whistling.
Brisa spoke recently w/
Tant qu'il y aura du son (translated into English from French).

Thanks to Nathalie!
Posted by

Mattereaterlad
at 1:30 PM
1 comment:

Thursday, October 11, 2007
Here's an interesting look at who's been visiting brisaroche.com! Thanks to googleanalytics.com - Fans from France, US, UK and Brazil are the most frequent visitors...sounds like a contest, to me. Click on the map for greater detail.
Posted by

Mattereaterlad
at 6:24 PM
1 comment: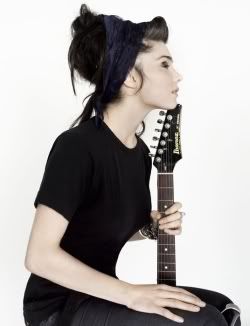 In case you haven't heard, Brisa's album is less than a month away (see the countdown clock in the upper-left-hand corner for the exact amount of time left). To satiate us, Brisa's put a new track on
her myspace page
that is slated to be tucked away in her album...her "secret track" called "Ali Baba"! Enjoy it while you can, because she's not going to leave it up for long!
Have a listen
(along with a couple more new tracks - it's the only place you'll find them, for now).

Also, information about what it takes to buy "Takes" will be made available, soon!

Posted by

Mattereaterlad
at 6:13 PM
No comments: